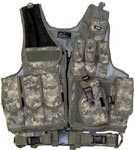 BB proof vests are vests worn that soften the impact of the BB. BB proof vests are used by the majority of player in airsoft battle's/skirmish's
BB proof vests are simply cordura vests like the one pictured that soften the impact from being shot but still allow, in most cases, the player to feel and/or hear the hit. The prices for these vests range from £30 - £200+ depending on the make and style. Most BB proof vests are Load Bearing Vests or Tactical Vests used to hold Ammo Magazines, Pyro and other equipment.
Types and Variants
Edit
FSBE
CIRAS
Tactical Assault Vest
RRV
IBA
See also
Edit
Community content is available under
CC-BY-SA
unless otherwise noted.