We're Getting Mutants in the MCU - The Loop
Play Sound
Military Simulation, abbreviated as MILSIM, is a fully immersive military exercise that provides its civilian participants with the most realistic combat experience possible. Although primarily carried out for entertainment, it also provides insight into the physical and mental stresses soldiers can face in accomplishing their duties. Military tactics and strategies are practiced by teams of players armed with airsoft replica weapons to accomplish objectives as part of a larger overall mission. Conducted with safety in mind, this is a chance to experience the challenges soldiers overcome every day without the risk of serious or life threatening consequences.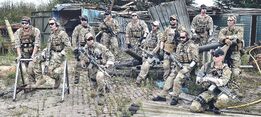 Requirements
[
]
To promote an event as MILSIM, the following realistic elements must be implemented:
Roles
[
]
Main article: MilSim Team Roles The command structure is imperative. This is how all players on a team communicate and coordinate with each other to achieve their objectives. Team leaders receive intel through…and disseminate it to the individuals on their teams while planning their missions.
Rules
[
]
The rules oversee what players can and can not do. These include varying ROE (rules of engagement) for different teams with different objectives to complete, avoiding contact or not engaging for example. A re-spawn process should be established that increases a realistic and practical flow of battle. Rules regarding weapon restrictions are needed to keep gun capabilities in line with their real steel counterparts. Ammunition restrictions are also necessary to mimic what a soldier could realistically carry on his person…
Scenario
[
]
Main article: MilSim Scenarios The scenario should provide enough background to enable strategic decision making at a higher level than tactical planning. There must be reason for having objectives to complete in a game or for having some specific ROE. The scenario also allow for the practical application of non-combatant role players as well.