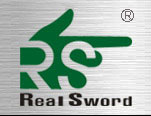 RealSword is a Hong Kong based manufacture of high quality airsoft replica's. Their factories stem from Norinco factories who convert firearms to accept a gearbox. They are widely known and accepted as one of the best airsoft manufactuers.
Realsword, also known as "RS", is widely known for their Type-56 variants, SVD, and and the QBZ-97 and the QBZ-97b.
InternalsEdit
All airsoft replica's manufacturered by RealSword feature a proprietary gearbox, with few TM (Tokyo Marui) compatible parts. RS gearboxes and internals are built very well using stamped steel parts. In the event of something being broken, RealSword provides plentiful replacement parts at an inexpenisve price.
They are designated via the letter T, followed by a number. For example, the T-3 Gearbox is the proprietary gearbox for their SVD.
Their stock shimming is great and air seal is great, as well as the greasing.
Here are some general details regarding the gearbox:
Short type High Torque motor: TM compatible
Steel gear sets
15 teeth polycarb piston with metal release tooth (19 teeth for the T-3)
metal bushings
metal spring guide
M120 spring stock

Its important to note that because the gearbox is not TM compatible, you will not be able to create high performance set ups, notably high speed set ups. However, high FPS is doable, for example, a stock T-3 gearbox can handle a M170 spring reliably.
Parts that are compatible with Tokyo Marui products:
Piston Head
piston
spring
motor
bucking
hop-up (prowin can be installed)
barrel

The barrel is a standard 6.08 brass barrel and high quality hop up unit. The high accuracy give from the stock RS is primarily credited to the hop up unit. The T3 hop unit is a incredibly simple and reliable design, and the way it pairs with the bucking, nub and barrel produces insanely high stock accuracy.
Externals
Edit
Real Sword externals are 1/1 with their counterparts. The externals used by Real Sword are real steel externals made from stamped steel, converted to take a gearbox instead of a bolt carrier group. The Type 56 series and SVD receivers are made out of stamped steel, with steel barrels. The importance of which will be noted later. The wood furniture is used from real Type 56's aswell as NDM-86's (SVD).
Details regarding externals as follows:
Stamped steel receivers with chinese markings.
Plywood wood stocks/handguards hand made.
Steel barrels.
Steel gearsets.
Comparison to other companies
Edit
The only other company's that come close too the external quality of RealSword is VFC and LCT.
There are other manufactures of AK's on the Airsoft market, Mainly Dboys and Cyma. Both brands are made outside of china and are a "hit or miss" as far as quality. Both manufacturers make clone copies from VFC externals and parts mainly featuring a pin design rather than a grub screw in their older models.
Polarstar. The type-56 cannot be polarstar'd as the gearbox is elongated and the v3 fusion engine does not fit. There is only one Polarstared type-56 in exsistance.
RealSword: Is it the best gun for every situation?
Edit
Quite frankly, no. RealSword excels in stock internal quality, and the best in external quality. However, it's capacity to be upgraded to be more than what it is. The RealSword series are severely hampered due to their proprietary nature. A high speed set up with a Real Sword is simply not possible. RealSword's SVD are still currently the best SVD on the market, and makes an excellent DMR build.
What Real Sword does better than anyone else is realism, and the externals reflect that. In general, comparing toe to toe with other top AEG manufactures such as G&P, Tokyo Marui, Classic Army, G&G, and ICS, Real Sword beats them all, and does it for a reasonable price.
Community content is available under
CC-BY-SA
unless otherwise noted.