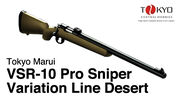 The Tokyo Marui VSR-10 is an airsoft sniper rifle produced by Tokyo Marui, modeled after the Remington Model 700. It is one of the first airsoft sniper rifles ever made, and remains a popular airsoft sniper rifle option.
Details
[
]
The TM VSR-10 is priced reasonably at around 220 USD. The VSR shoots at a standard Japansee velocity of 275 FPS. This is typically very low for a sniper rifle, but Tokyo Marui manufactures one of the best stock hop up chambers, buckings, and barrels, giving it an very tight grouping at long range, even with its low stock power.
Variants
[
]
Pro Sniper
G-Spec
The G-Spec has a shorter barrel, but comes with a silencer.
Real Shock
The Real Shock is identical to the Pro Sniper version, but has lead weights around the piston for "simulated recoil".
Pro Hunter
The Pro-Hunter variant is exactly the same as the Pro Sniper, but the barrel and reciever has a silver finish.
Clones
[
]
JG BAR-10

Well MB03

(clone of the Pro Sniper) and the MB02 (clone of the G-spec, without a silencer)

AGM MP001

and MP002 (internally identical, differing only in stock design)

HFC USR-11

/

HFC VSR-10

SOCOM Gear R700

Double Bell VSR-10